Discover more from The Four Point Play
A place to discuss the Phoenix Suns. Focusing on video analysis, with the occasional salary cap look or opinion piece
Over 2,000 subscribers
Vol 1, Iss. 7: Time For Sarver To Put His Money Where His Mouth Is
The Suns are entering a critical Free Agency period and have plenty of options. The best one also requires the greatest financial commitment.
Having Withdrawals?
Me too. I miss Suns basketball. I miss winning Suns basketball. May I suggest going back and re-living how awesome Devin Booker was in Issue 5? Or perhaps you'd prefer to go the audio route and listen to the special edition podcast talking about the Bubble for Issue 6? If you've done both already, a huge thank you from me. And luckily for you, I've got more for you to consume below.
Into the off-season we go……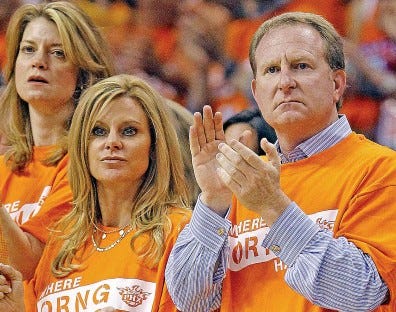 With the NBA Draft Lottery now in the books, one of the biggest questions for Phoenix's off-season is now answered. The Suns are remaining at slot number 10.
But what's the biggest question left unanswered? Who will the Suns draft? Will James Jones trade the pick? How much cap space can the Suns generate? Can Phoenix land a star? Who will the front office try re-sign? Which player is getting traded?
In my humble opinion, it isn't any of those. The single most important question remaining doesn't involve rookies, or draft picks, or current players, or even future players. It doesn't even involve the Front Office staff. It points squarely at the head honcho. The boss man. The Managing Partner of the Phoenix Suns - Robert Sarver.
And that question…….
Bob, are you prepared to dig deep into your pockets to spend on this team and give them every chance to succeed next season?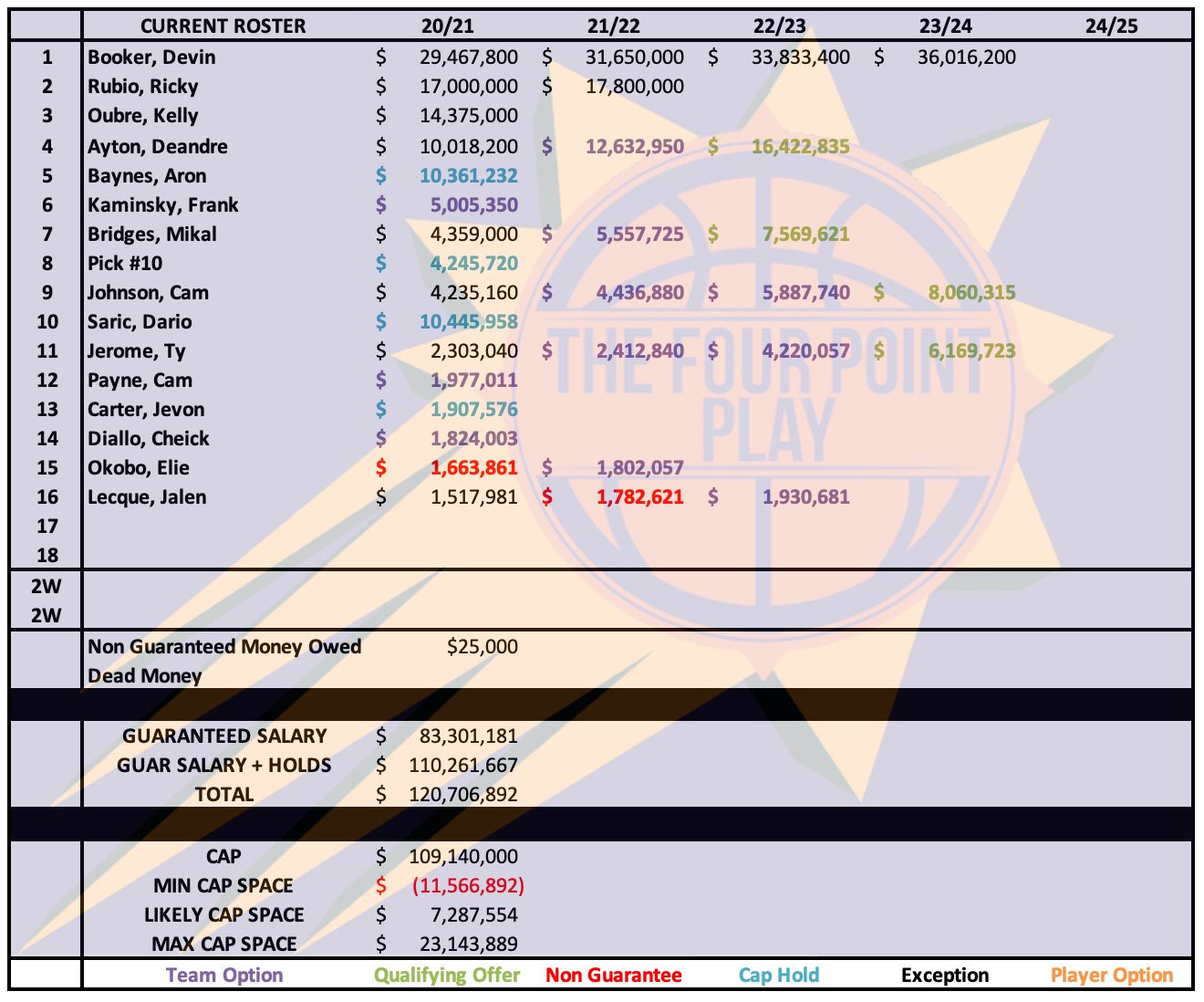 Above is the Phoenix Suns Cap Sheet, as I see it.
*Before you nitpick or ask any questions, I'd encourage you to read the four disclaimers at the bottom of the page.
The Suns have 8 guaranteed contracts locked in, 3 team options to decide on, 2 Restricted Free Agents to protect, 1 Unrestricted Free Agent to seriously think about, 1 non-guaranteed deal and 1 potential incoming draft prospect. All with a fair bit of salary cap uncertainty surrounding the NBA, just as Sarver himself recently said.
"We don't have a good handle on what the (salary) cap is going to be heading into next season. Relative to other teams, we will have some cap space. I think we'll always look at ways to improve our roster. Our best way to get better is for our young core to get better." - Sarver said on radio.
Sarver has my full support when it comes to that final statement. I am in 100% agreement that the best way for the Suns to get better is for the young core to get better. Unfortunately, I feel like we potentially disagree on how to make that happen. But I don't pay the bills to keep the lights on at Talking Stick Resort Arena.
"We can't be responsible for other teams and whether other teams win and lose, other than us. I'm very happy with what we accomplished."
This quote from Sarver was in reference to the Suns going 8-0 in the Bubble and waiting on the result of the Blazers-Nets game, to see if they'd make the play-in game. However I want to use it totally out of context to discuss the upcoming NBA off-season, in conjunction with what is going to be an incredibly difficult West playoff race next season. Phoenix can't control what other teams look like next season, but Sarver can control how well setup his Suns are for the battle.
In fact, he has all the control. Let's take a look at how the Suns can approach Free Agency and Sarver's key role.
Scenario 1: Go For Broke Move - Create Maximum Space
The question most fans always have; how much salary can we free up to sign the best of the best Free Agents? The answer in my mind; $23,143,889.
That's the good news, if this is the kind of scenario you were wanting. The bad news is, it comes at the cost of the following:
After all that you end up with 8 guaranteed contracts and Cam Payne, totaling $83,301,181. CBA rules also mean you incur 3 roster charges and that's where you end up with the maximum available space created. So going into Free Agency the Suns would need to fill six vacant spots with that cap space, the Room MLE ($4.767mil) and as many Veteran Minimum contracts as they need.
The only other thing to say on this scenario for now - is that the Suns could target one or two potential Free Agent signings with this approach and still pivot to Scenario 2 or 3 below, if they fail. But not without risk.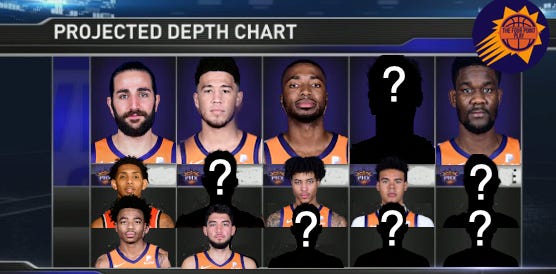 Scenario 2: The Predictable Move - Under The Cap
Our next scenario involves the Suns still going into Free Agency with cap space but with a few more of the positive Bubble bodies still on the roster. However, in order to do so we end up with an underwhelming amount of cap space; $9,214,565.
Much like Scenario 1, we would again have that money to spend, the Room MLE and any extra Veteran Minimum contracts needed. To add to the following:
Cam Payne on his team friendly $1.9mil contract with just $25,000 guaranteed.

Cap Holds for Dario Saric & Jevon Carter, allowing you to match any RFA offer they get and spend over the cap if necessary to retain them.

The draft prospect the Suns just took at #10 in the NBA Draft.
So unlike Scenario 1, the Suns may only need to fill three roster spots instead of up to six. They'd have $13,981,565 in combined space and exception money to fill those spots and on October 18th the Phoenix depth chart would like something like this.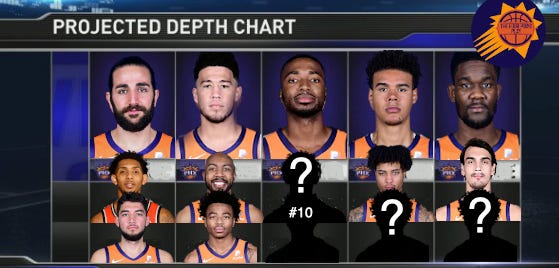 Scenario 3: The Right Move - Over The Cap
Full disclosure, this is the move I'm advocating for. The Suns can easily enter Free Agency as an "Over The Cap" team, by keeping a bunch of their free agents cap holds on the books and exceeding the $109.1mil cap line.
Of course, this means they have no cap space to spend in Free Agency but it doesn't mean they won't be players in the market. NBA teams over the cap have access to the Non-Taxpayer MLE ($9.258mil) and BAE ($3.623mil), both of which can be spread across multiple players if need be. That's a total $12,881,000, which you will notice is slightly less than in Scenario 2 but the benefits still outweigh that minuscule drop in available funds.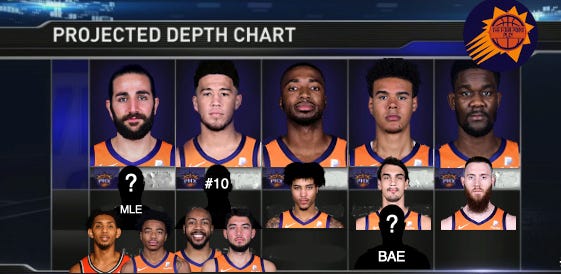 Below is my list of 7-ity-bity-reasons why this is the right move for Mr. Sarver and his Phoenix Suns:
Continuity - The Suns could do with some continuity. Devin Booker could do with some continuity. Especially on the back of the inspired Bubble run. This approach would see every Suns player from the 19/20 season return minus Diallo, Kaminsky and Okobo. In what is sure to be a weird new season, whenever it starts, I get the feeling the teams with the least amount of turnover will start well. And damn, has it been a while since a team in purple and orange had that.


Flexibility - Phoenix could try re-sign Saric, Baynes and Carter on inflated two year deals with team options for the second year. When you are signing over the cap, the first year salary really doesn't matter for anything other than Sarver's bank account. And it might be just enough incentive to the players, to give the flexibility of a team option to preserve cap space for next off-season (in case you're wondering, my mock scenario could still leave the Suns with options to open up Max Cap Space next off-season). If this happens for any of the above three players under this kind of scenario, just remember to remind yourself - the first year figure doesn't matter. It can be $15mil for all I care.


Activity - The Suns of the not too distant past have had an issue when it comes to trading for the next NBA borderline star that comes onto the market. There has been a lack of attractive assets for one but also a lack of useful contracts to use in a trade. All of a sudden the Suns would have expiring deals in the form of Kelly Oubre, Dario Saric, Aron Baynes and Jevon Carter. These could all range from anywhere between $5-$15mil and be extremely useful in moving the needle for the Suns. Most importantly, they can kick the can a little further down the road and bide their time to wait for the right deal for what they need to make a leap.


Quality - The Bubble Suns went 8-0. It was an impressive feat for a team missing Oubre and Baynes from the regular rotation and relying on heavy minutes from some lesser knowns. The rigours of an 82 game season present more challenges than an 8 game tournament style run. How nice would it be as a Suns fan to hold out hope for the Playoffs, without needing absolutely everything to go right? Truth is, you rarely get the best case scenario in the NBA. An undefeated Bubble team PLUS Oubre and Baynes PLUS two NBA veterans. Yes please!


Diversity - Devin Booker is ready to make the Playoffs. He's been ready. This approach surrounds him with a good amount of NBA experience to make the post season but doesn't sacrifice the long term view in return. The Suns have an opportunity to give Devin up to 6 teammates who are in the regular rotation, that have similar or more NBA experience than he does. Add that to the young core of Deandre Ayton, Mikal Bridges, Cam Johnson plus a newly drafted rookie, and their are a variety of options going forward for the team in the Valley.


Parity - This one is the smallest of the 7 reasons but is important nonetheless. The Non-Taxpayer Mid Level Exception (MLE) is bound to be a competitive market in the upcoming Free Agency Period. Scenario 2 leaves the Suns with slightly less than the MLE in cap space and therefore at a disadvantage. It's a tiny difference but when you also factor in the 5% raises year on year, it can start to play a part in Free Agency targets choosing elsewhere.


Baynesability - Last but certainly not least, Aron Baynes. There's no escaping the fact that the main difference between Scenario 2 and 3 is the existence of the 6'10 Aussie on the roster. For me, the choice is simple. You can potentially bring him back to play on & off court mentor to Ayton or you can let him go and try and replace him with a minimum salary backup big. The guy that clearly helped your franchise C in Year 2 and that joined the team in Orlando immediately after clearing Covid regulations. Only to log zero minutes, no less. And all it costs is a few million out of Sarver's back pocket.
It's as simple as that really. It might cost up to $20mil more than the soft salary cap benchmark. Robert Sarver's appetite to control what he can control and spend over the cap during a time of financial instability, could be the most important decision of Phoenix's off-season. It could be the most important decision of Devin Booker's tenure in the desert, to be honest. With aspirations to make the Playoffs in the stacked West, the Suns are certainly going to need an element of luck on their side. But just as Deandre Ayton recounted to Woj recently, Monty Williams tells the players that luck is when preparation meets opportunity.
Looking Ahead At Potential Targets
Everyone is going to have different opinions on this. I will no doubt have more content coming up on specific draft, free agent and even trade targets for the Suns. For now, I am just quickly sharing a bit of my philosophy on that, so you can understand the Why?
I recently did a quick study of the 16 current playoff teams and their roster makeup. Rather than looking at age, which can be deceiving, I looked at how many years of NBA service each player on the roster had and also which of those players logged Top 10 minutes for their team.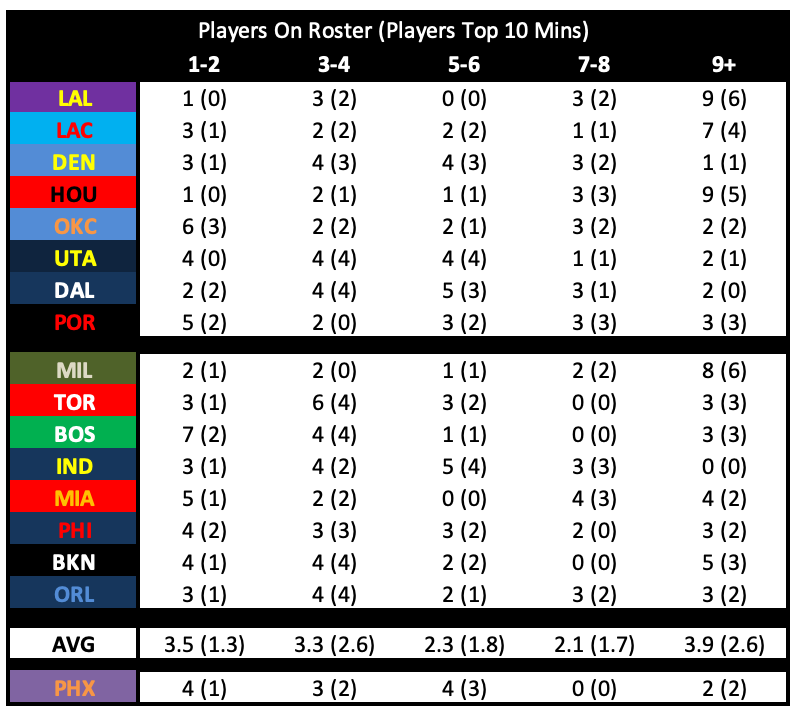 If the aim for the Suns is to make the playoffs next season (hint: it should be), it's not just my opinion that they need to bring in more experienced veterans. The above study illustrated that on average, playoff teams this year had 6 rostered players with 7+ years NBA experience and just over 4 who were among the Top 10 in minutes for their respective teams. There are off and on court benefits to employing NBA vets.
If Ricky Rubio and Baynes return to Phoenix, that would give the Suns 2. Below is my projected roster and their years of service before next season. Bold players likely to be Top 10 in minutes.
1-2 Years: Cam Johnson, Ty Jerome, Jalen Lecque, Pick #10.
3-4 Years: Deandre Ayton, Mikal Bridges, Jevon Carter.
5-6 Years: Devin Booker, Kelly Oubre, Cam Payne, Dario Saric.
7-8 Years: *tumbleweeds*
9+ Years: Aron Baynes, Ricky Rubio.
There is a clear need for two veteran additions with 7+ years experience and a role to play on the court. Especially if the Suns harbour serious thoughts of making the playoffs.
The good news on that front is, James Jones and Monty Williams appear to be aware of the need for more veterans. I will leave you with the below quote from Monty recently, talking to Channing Frye about the similarities between a Blazers team that Frye played for and the current Suns. Monty was an assistant coach and Jones was one of the veteran players brought into Portland.
"When your changing a culture and starting to win games, that next step is a lot harder…..Those were the right moves for us because the culture didn't change but it brought a level of professionalism and consistency and we brought experience. And so, we know we are going to have to make good decisions going forward and James is already working on that" - Monty Williams talking past Portland vs current Phoenix
---
*Disclaimers
Disclaimer One: I am hyper aware that both short (see: selling G League team) and long term (see: basically everything) history suggests that a lot of what is suggested above, has very little chance of happening. Hard to bank on investing further with such a bad history in investing overall. Still, I think it's important to lay out how I think the Suns off-season could look if there were no internal barriers.
Disclaimer Two: I always include this disclaimer when I talk Suns salary cap. Basically, I am self taught and by no means an expert. The best way to learn about this stuff is through real life examples. I encourage anyone reading to ask questions if you want to learn more and for you to let me know if you think I've made a mistake.
Disclaimer Three: The salary cap amount for season 20/21 is not yet set. Unlike other years, there is a bit more uncertainty in what that number will look like due to Covid and Bubble basketball without fans. For now, I am using the $109.1mil figure for this past season and the exception totals tied to that figure. This seems to be the figure a lot of people I trust on such matters, are currently using until we know more.
Disclaimer Four: Above I use three main scenarios to succinctly wrap up the Suns options this off-season. These are by no means the only three options and each one has variables within the scenario that could change. I've gone with what I think is most likely / what I'd prefer to do. The most notable admission is the chance of any trades on draft night or in early free agency. That is very possible and worth considering, but it's also very hard to predict. So I've decided to leave it out of this conversation for the time being.